Author: Ricker Olson
During the fall of 2018, an idea came to me one day after walking through the church doors after service one Sunday. I looked out in the North direction of the church property, and pass the existing church garden area, and the idea of planting a vineyard hit me straight on the forehead. Why not plant our own grapes and perhaps turn it into a fund raiser of some sort, but secondarily, we could raise our own grapes right here and make Sunday communion wine ourselves! And so the project had been planted.
Some weeks later, I approached the church council, presented a budget, and was given the go ahead. Skipping ahead several months now into 2019, "brown" aka UPS arrives at my doorstep with this huge box, weighing something like 60 lbs. or so. Anyway, it's now early May and the vines are here.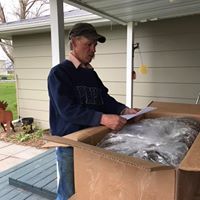 Not all roots are created equally…

Unknown author
Three different varieties of plants, and look at the differences. The yellow yard stick is (obviously a yard) three feet long, so now you can perceive how long the bareroot vines are. The vines that are at this vineyard are Frontenac and Marquette, both are red grapes since they are destined for communion use. There are actually 25 individual plants per bundle.